Decorative features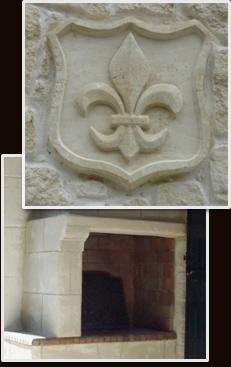 The decorative wall coating can be used for any kind of wall decoration, such as escutcheons, crosses, crests, plaques, drawings and personalised inscriptions.

The coating can be used to make decoratives and for decorating both interior and exterior objects such as fountains, waterfeatures, alcoves, barbecues and fireplaces.
It can also be applied to create riveting effects such as a trompe-l'oeil.

Visit our photo gallery and see how a drywall structure can be transformed into a beautiful ceiling to floor stone fireplace.
Our product is fire resistant and can cover existing or newly built fieplaces in stone designs.
Outdoor living and outdoor kitchens always look more authentic with stone.
Just give us the structures surrounding your burner tops and grill and let us transform them into the stone structures our forefathers would build to grill and barbecue foods.
Add a small cooling chest, built from foam and we can cover the exterior to make stone.
The possibilities are numerous to tranform that outdoor living fireplace or kitchen!
Want to add some decorative structures to your home, contact a Decopierre® Certified Applicator today!