Interior design / Stone finish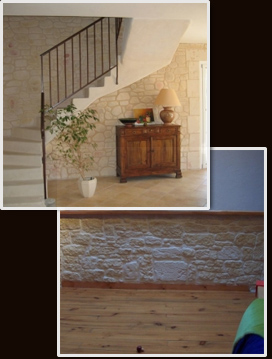 Our decorative coating can be applied inside the house for that unique original touch.
It is suited to all types of rooms in the house, including the bathroom and kitchen.
It can also be applied around windows and doors.

- Have you ever wanted to change the look of that fireplace?
- Have a stone wine cellar or wine room?
Any surface in the interior, including ceilings can be tranformed by Decopierre® to natural stone designs.
Our Certified Applicators will vist your home and discuss with you the beautiful transformation of your interiors into grand entry ways, alcoves, basements, home theaters, etc.
The natural limestone will enhance any room with its unique stone features.
Special care is given to protect your furniture and flooring, and in most cases within days your home interior will have a luxurious face-lift at a fraction of the cost and time real stone would cost.
Visit our photo gallery and begin to plan your interior make-over!