Facades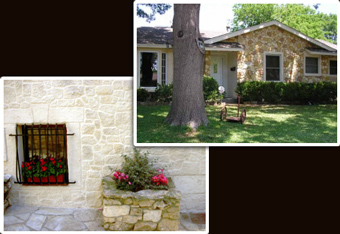 Our wall coating is perfectly suited to facades, both newly built surfaces or for renovation. Preparing the substrate may be necessary depending to the condition of the substrate.

Our product can be applied directly on bricks, cinder blocks, concrete, ICF and over wood using diamond mesh and tar paper, or according to local building codes and insurance requirements.
Since our product is made from natural limestone, in addition to the beautiful lasting design results, it has unique characteristics due to the type of limestone we use. These are:
- Vapour Permeability - Decopierre® is vapour permeable, eliminating the presence of vapour and moisture in the wall and substrate.

- Elasticity - Decopierre® minimizes shrinkage and cracking, and allow minor movements of the substrate.

- Breathability - The permeability of our walls alllows them to "breath", and since moisture is not present in the wall, it has excellent insulating properties.

- Eco-Friendly due to Co2 absorption - Decopierre® products are Eco-Friendly. Co2 is reabsorbed during the carbonation of the free lime.

- Resistance to bacteria & vegetation growth - The limestone in Decopierre® has a permanent alkanility, eliminating moss, mildews and other growth.

- Resistances to salts - Marine properties are protected! salts that exist or penetrate the walls pass through and essentially wash off. The natural limestone of Decopierre® is perfect for coastal properties.

- Self-healing - Referred to as " autogenously healing". Decopierre® has free lime which continously reacts to the carbonic acid in the air , healing moderate damage or cracks.

- Pigment and colors - The carbonation process (absorption of CO2) ensures our pigments are absorbed into the stone and never fade.
Click here to visit facades photo gallery