Door and Window frames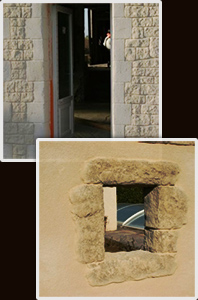 Our wall coating is also designed to enhance frames of any colour and shape, such as

-

doors,

-

windows,

-

quoins,

-

any other opening.



One of the most unique feature of Decopierre® is how we are able to take simple window frame and turn them into windows that are framed by stone blocks with traditional capstones.
No remodeling and construction material in the market can transform windows and doors economicaly like Decopierre®.
Visit the photo gallery and see more windows and doors. Select your window and door design or dream up your own, and contact us !