Stone walls / retention walls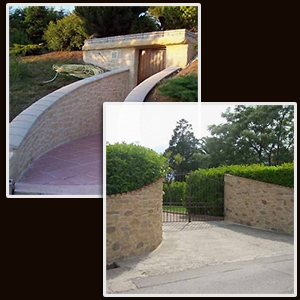 Our decorative wall coating can give your walls the appearance of natural stone.
The stones are handcarved into any shape and colour, and can be adorned with wall decorations such as windows, arches and inscriptions.

While Decopierre is not a structural product, it can be applied to existing and newly built retaining walls, perimeter walls, entry ways to subdivisions or estates.
The hardy, resistant limestone plastering will withstand natural elements and upgrade concrete retaining walls and other walls around properties and entryways.
Unique designs and patterns, company logos and other inscriptions can add that personal touch to your walls.
Click here to visit Stone walls / retention walls photo gallery